Lesson 3: The Middle and Northern Colonies
Day 2
Reading and Questions
Materials: Great Colonial Projects You Can Build Yourself! by Kris Bordessa, We Were There, Too!: Young People in U.S. History by Phillip Hoose
Read pages 23-24 of Chapter 2 of
Great Colonial Projects You Can Build Yourself!
by Kris Bordessa, and also read "Betty Parris and Abigail Williams: Bewitched or Bored?" (starting on page 29) and "Eunice Williams: Captive" (starting on page 33) in
We Were There, Too!: Young People in U.S. History
by Phillip Hoose. Afterward, answer the following questions.
Questions
What kinds of natural materials did American Indian children use to make toys?

Tree bark (ball and triangle), seeds (marbles), nutshells (dice), sticks and bones (musical instruments), corn husks (dolls).

What are some possible explanations for the hysteria surrounding witchcraft in Salem?

Answers will vary, but your child may mention the influence of stories told by Tituba, boredom, the desire to gain attention and avoid tedious work, a prank or game that got out of hand, or other possibilities.

What happened to Eunice Williams after her family was taken captive?

She was separated from her father and brothers and eventually married a Mohawk man. She refused to return to her family and became Catholic and lived with the tribe and her husband and children until she died at age 89.
Activity 3: Timeline of U.S. History
Materials: scissors, tape or glue, timeline and timeline cards
In this activity, you'll add cards #11-18 to your timeline of U.S. history. Tape or glue each card in its appropriate place on the timeline.
In this activity, your child will add several new cards to his timeline.
Activity 4: Salem Witch Trials
The mass hysteria of the Salem Witch Trials has fascinated historians for generations, and they have put forward many different theories about why there were so many accusations of witchcraft in Salem in 1692-1693. In this activity, you'll consider some of those explanations and record your thoughts on the merits you see and the doubts you have for each possible explanation. Complete the table on the "Salem Witch Trials" pages.
Student Activity Page
Student Activity Page
In this activity, your child will consider various possible explanations for the witchcraft trials in Salem and write down what might be plausible about each theory and what might be a cause for doubt. Since this activity page relies on each child's own reasoning, answers will vary. Be sure to discuss this page with your child when he has finished the lesson.
Web Link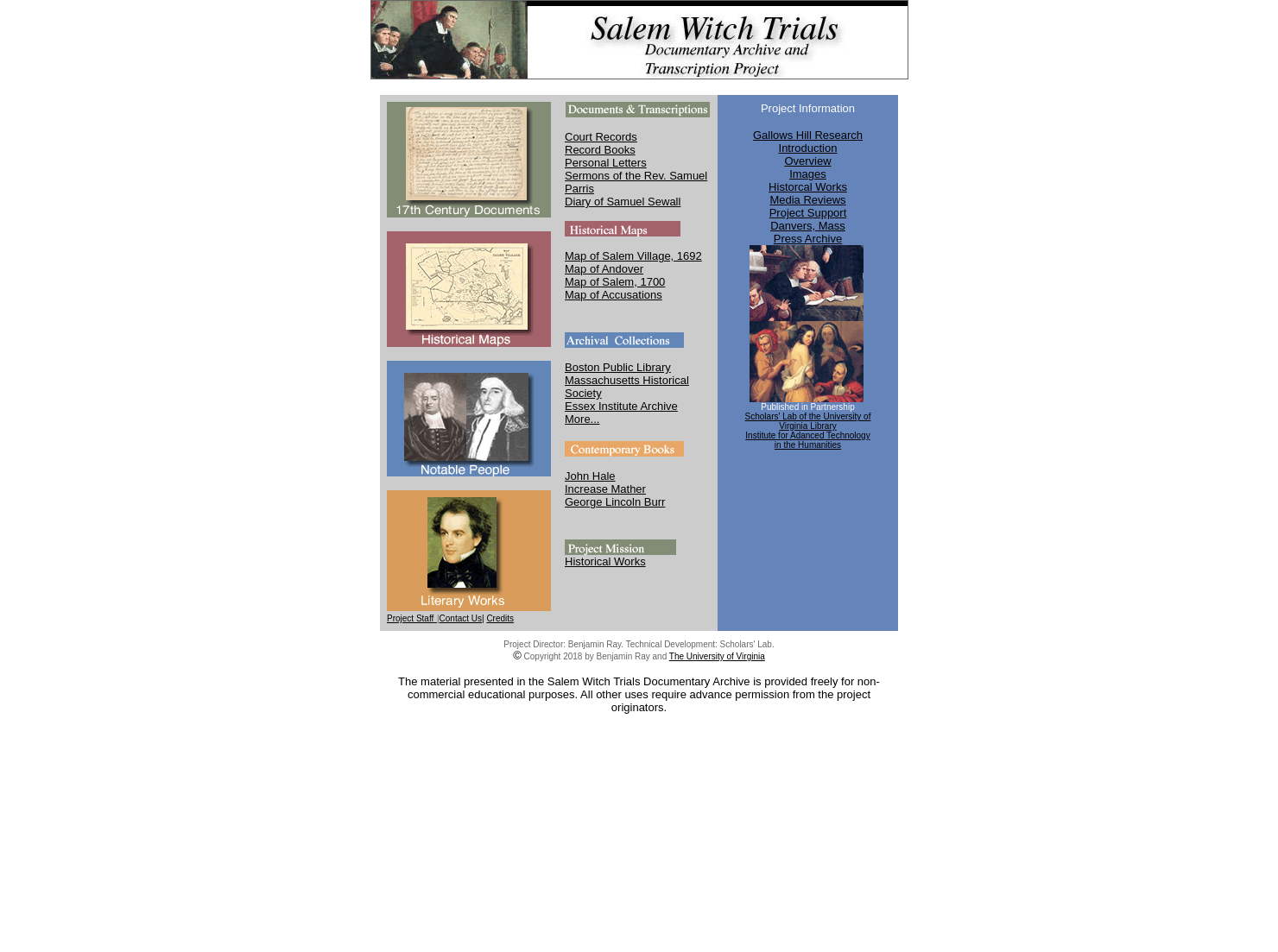 University of Virginia: Salem Witch Trials
salem.lib.virginia.edu
You may also wish to share some of the primary sources associated with the witch trials with your child. The University of Virginia has an excellent resource page about the Salem Witch Trials here.
This link was verified on 11/10/2023.
Web Link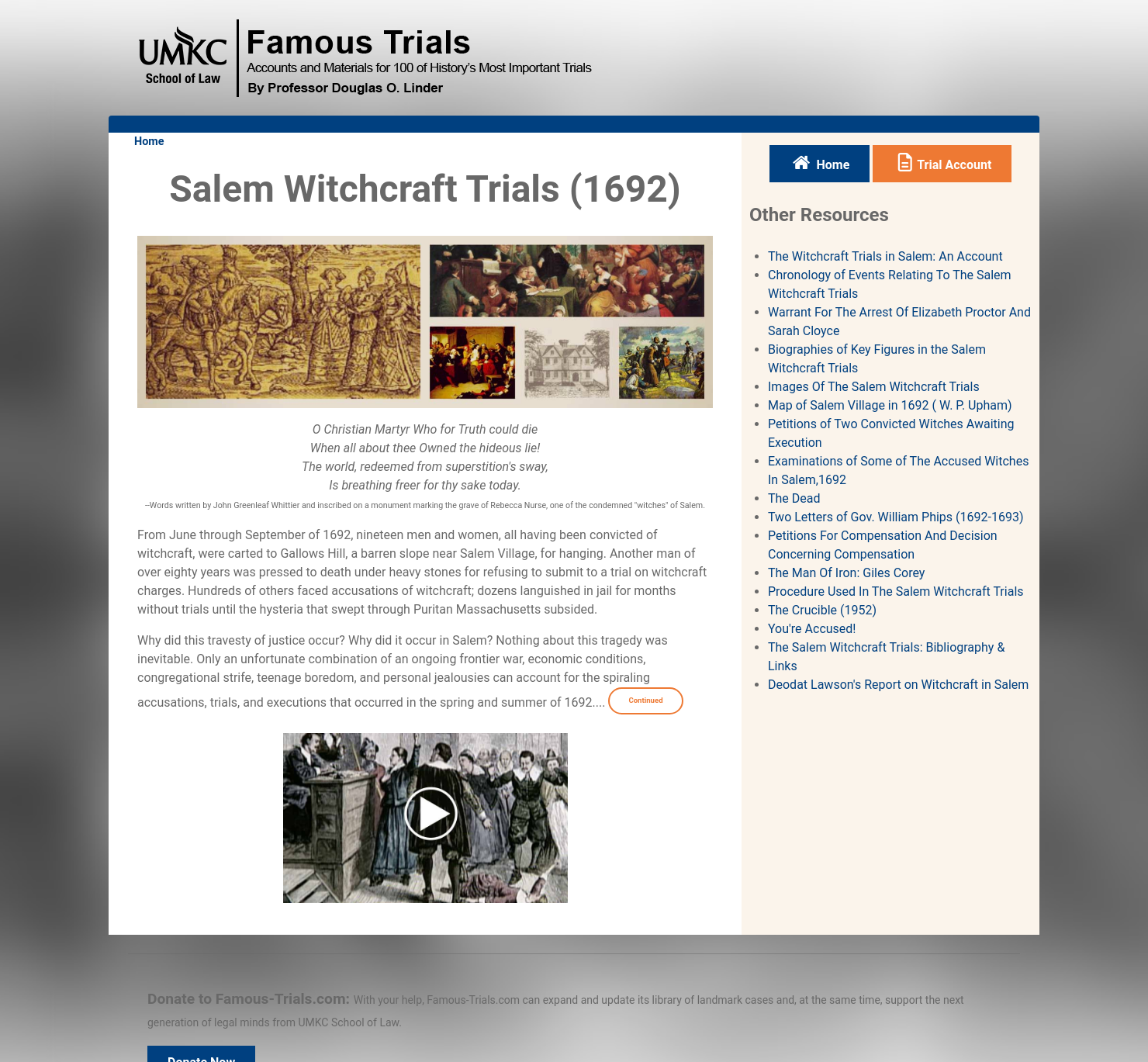 Famous Trials: Salem Witch Trials
www.famous-trials.com
The University of Missouri and Kansas City Law School also has a detailed website about the witch trials.

Due to the nature of the witch trials and the college-level audience intended for these resources, you will want to preview them before sharing them with your child.
This link was verified on 10/11/2023.